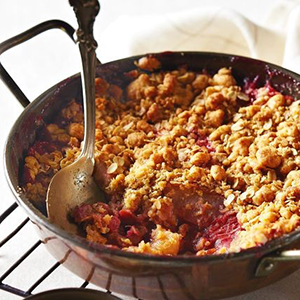 Autumn is the time to enjoy our local crop of new apples and paired with rhubarb, this easy recipe is a great combination of both sweetness and tartness.

Serves 4
Ingredients:
For the filling:
4 granny smith apples: peeled, cored, cut into chunks
½ bunch of rhubarb: leaves removed, washed & chopped 3 cms pieces
¼ cup water
1/3 cup castor sugar
Zest and juice of a lemon
For the crumble topping:
½ cup plain flour
90gms cold butter chopped into pieces
½ cup brown sugar
¼ cup shredded coconut
¼ cup rolled oats
1/4 cup almond flakes
½ tsp cinnamon
Filling Method:
Preheat oven to 180C
Lightly grease an ovenproof serving dish medium sized
In a medium saucepan combine apples and water, bring to the boil and then simmer till almost tender
Add rhubarb, lemon zest, lemon juice and sugar, simmer stirring for 3 mins or until rhubarb is almost tender
Drain excess liquid and spoon the mix into the baking dish
Crumble Method:
Sift flour into a medium bowl
Rub in chilled butter until it resembles breadcrumbs
Stir remaining ingredients through
Top the fruit layer with the crumble mix
Bake:
Bake 25-30 mins until its golden and bubbling, serve warm with a dollop of cream or ice cream. Enjoy!